Genealogy goes hand in hand with history and thus today I want to let you know and make you aware of Cindy Medina's New Spain & Mexico History Facebook Group.
If you follow our Mexican Genealogy Facebook Group then you know that historical posts are not allowed unless you tie them in with your personal family genealogy and or family history. I personally am a history buff but our group is focused strictly on genealogy.
It is for this reason that I want to make you aware of Cindy's group. It is the perfect place to share tidbits, blog posts, and articles about history concerning New Spain and Mexico History. I highly encourage you to join Cindy's group New Spain & Mexico History and share history there and keep on sharing genealogy resources and or inquiries at our Facebook Group Mexican Genealogy.
I had the pleasure of meeting Cindy Medina in person during the recent 38th Annual Texas Historical and Genealogical Conference in Austin Texas this past September 27 – 30 and thus was able to take the photo above. Cindy is very energetic and outgoing and her goals for her group are focused to only New Spain and Mexican History. Her vision for her group is to create a great community that is proud of their rich history just as our own community is proud of their rich Mexican ancestry and roots.
Screenshot of Facebook Group New Spain & Mexico History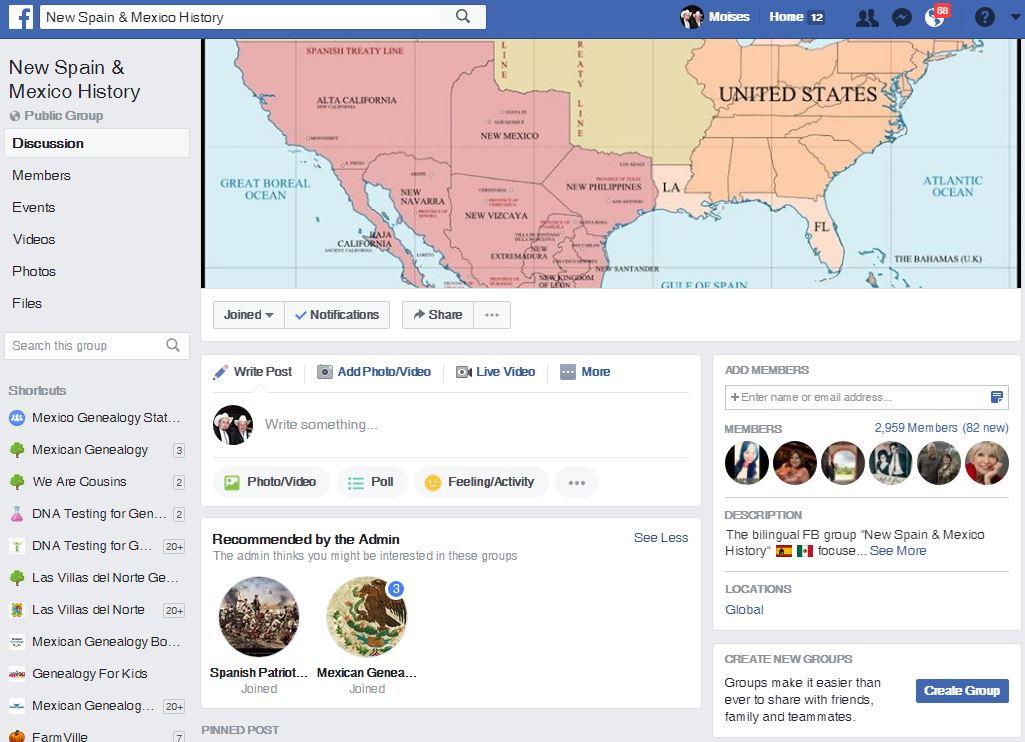 Join New Spain & Mexico History Facebook Group
Description of Group by Cindy Medina
The bilingual FB group "New Spain & Mexico History" focuses on the history of Spanish exploration, settlement in North America and celebration of Spanish heritage throughout the vast region — just as other groups focus on New England. We welcome members with New Spain ancestry who want to share articles, posts and pictures about this era.

We embrace our Mexican heritage including our Indigenous history.

We welcome history from both Mexico 🇲🇽 and Mexican-American sides.

We welcome posts suggesting reading material, especially history books.

Seguimos Adelante con Nuestra Historia! 🙂

NUESTRA HISTORIA NOS UNE EN HERMANDAD

Note: This is a Celebration page of our mutual history. Please do not post any offensive nor disrespectful posts or responses….Respect is key in the group 🙂
I hope that this group helps us history buffs share what we come across that is historical but that it is not appropriate for our Mexican Genealogy Facebook Group. See you in Cindy's group!