The Municipal Archive of Saltillo, Coahuila is now online. If you are researching ancestors in Coahuila and or the city of Saltillo you definitely have to check this resource out. This past May the municipal government of Saltillo placed four very important collections online.
Simply put, they area treasure trove for any genealogist. At the moment there are only four collections available and according to the director of the archives, Olivia Strozzi Galindo, more archives will be added as time goes by. For now, the only collections available are Tesoreria, Jefatura Politica, Actas de Cabildo, and Tierras y Aguas. Below I describe what each is and what you can expect to find on each.
Tesoreria (Treasury):
This collection has 1060 books dating from 1851 to 1940. In them, you will find all the finances for the municipal government. If you had an ancestor that at any point in his life might have had made business in Saltillo you can look up his or her name here. They also mention the names of owners of cattle.
Jefatura Political (Political Leadership):
This collection only covers 1885 to 1893 and only cover the time that Jose Maria Garza Galan was the governor of Coahuila. I could not find much genealogical information in them but it might be interesting or useful to you.
Actas de Cabildo (Minutes of Council):
This collection is comprised of 82 books dating 1608 to 2013. They provide a view to the development of the region and the city of Saltillo. It took me seconds to find a record where Bernabe de las Casas was elected mayor of the city. He is not my ancestor but he was married to my 12th great grandmother Beatrice Navarro. If any of your ancestors had to do anything with the government you will find them here.
Tierras Y Agua (Land and Water):
This collection covers the years 1671 to 1921 and in it you will find the legal documents having to do with land and also with water rights. You can search for your ancestor to see what you find.
Bad News
Out of the four above mentioned collection, the only one that has images available are the Actas de Cabildo (Minutes of Council). Hopefully, the others will come online soon, but I am still thankful since this website is a great start and even though the other collections may not have online images at least we now have a searchable index of their holdings.
The Municipal Archive of Saltillo, Coahuila is Now Online, How to Use It
To search or browse this collection go to http://portal.archivomunicipaldesaltillo.info/ and click on the link located to your top right hand labeled "REGISTRATE". You need to enter your name and email, once you do you will be granted immediate access to the collections.
After you register where the link "REGISTRATE" was is now gone and replaced with "FONDOS". Click it and you will be taken to the following page displaying the collections.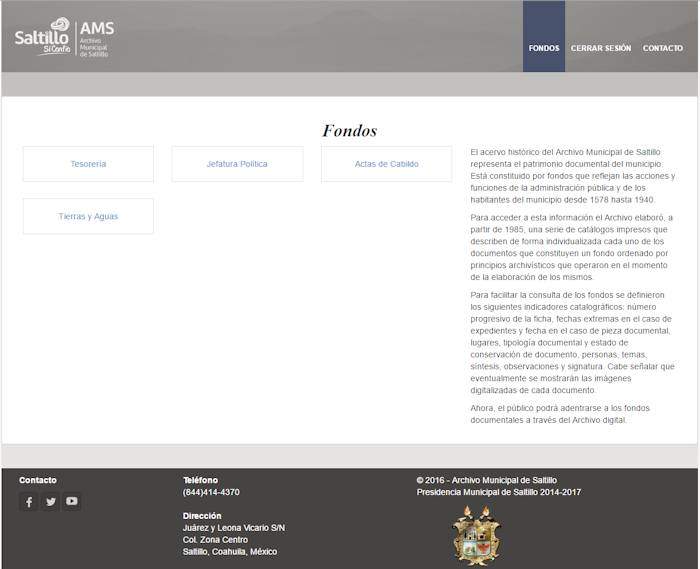 Select one of the collections. I selected "Actas de Cabildo" and go the following page.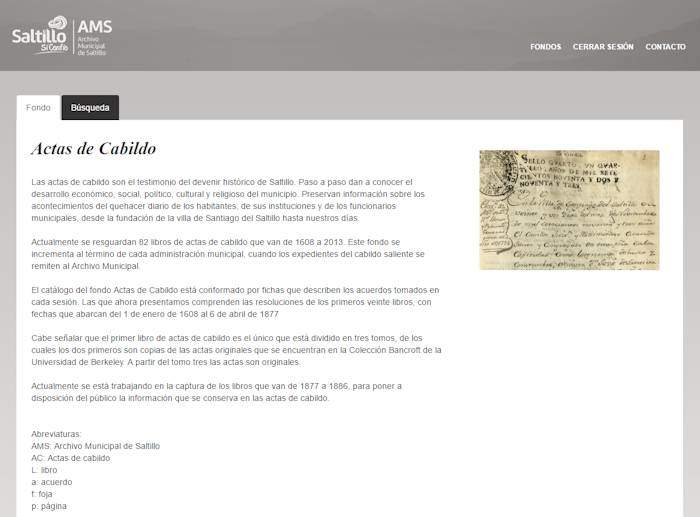 This is the description of the collection. Now to search its contents click on the top left tab labeled "Busqueda". Once you do that you will get the following page.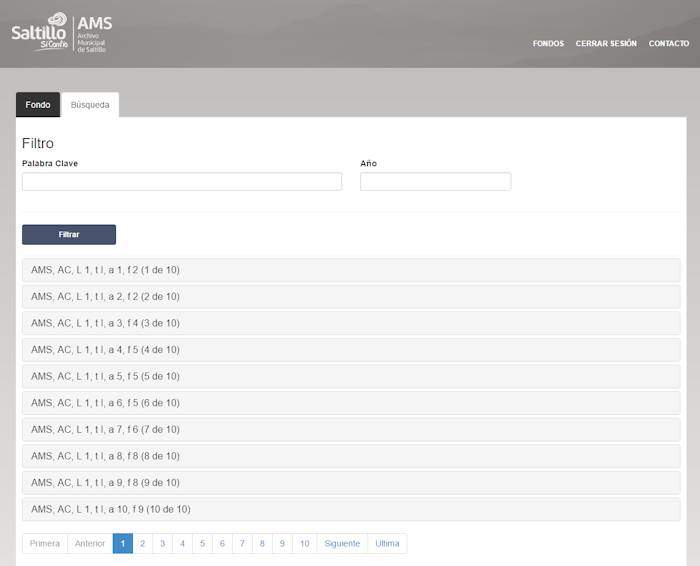 You can enter your ancestor's name in the box labeled "Palabra Clave" and if you have a year enter it where it says "Año". Here you also have the option browsing the collection.
I hope that you got something out of this post and if even if you are not interested in this collection of records make a notation that they exist, since you never know when your research may take you to Saltillo, Coahuila. Take care and happy searching!
You might also Like
The Historical Archives of Monterrey are Now Online
Now that you know that the municipal Archive of Saltillo, Coahuila is now online let me know int he comments section fo any great finds.