In this post, I will provide you with resources to find your Mexican ancestors using obituaries. There are many roadblocks when researching your Mexican genealogy. Especially for us of Mexican ancestry residing in the United States, it can be a little more challenging. Sometimes our family refuses to talk about our ancestors or when everyone has already passed away. Many of us are first, second, or third generation Americans and have never visited our ancestor's place of origin and do not know where they were from in Mexico. All we know is that they were from Mexico.
That is the reason that I get the following question allot. How can I trace my family to Mexico when I have no clue from what part of Mexico they were from? There are many solutions to try and figure this out but today I will only talk to you about using obituaries to find additional clues to help you find your Mexican ancestry. I will also show you where to look for obituaries and even how you can get notices to your inbox.
Find Your Mexican Ancestors Using Obituaries
Obituaries usually contain a great deal of information. I have come across some that are short biography's and others are practically full family trees. Before I go any further let me just warn you that you will also find the type of obituaries that I don't like and those are the ones that are basically just a name, death date, and funeral home information.
Let's just hope that you do find one of the first two mentioned. Obituaries usually will contain a picture, birthday, death date, parents information, sometimes grandparents, and sibling information. Many will also have places where major life events occurred. Especially birth and death. They also contain cemetery information and funeral home information.
Months ago one of this blog's readers sent me an inquiry on how to obtain her mother's great-grandparents information and advised me that her parents, as well as her grandparents, were all deceased and that all her aunts/uncles and great aunts/uncles were also deceased. I asked where did your parents die and she informed me that they died in the U.S. and that she was first Generation born in the U.S. She also advised that her grandparents died in Mexico. I asked did any siblings of your grandmother ever came to the U.S. and she said yes. I asked to have you searched for their obituary and she said no. I provided her with the information of where she could look at and a couple of days later she replied that she found a grandaunt that had just died in 2010 at the fruitful old age of 98. She was very excited since the obituary had the names of her great-grandparents and the town where her grandaunt was born in Mexico. She said that it provided her with the clues that she needed to find more generations.
I am very well aware that this might not be the case for you but if you have not dived into searching for obituaries I highly recommend that you do. You may be asking yourself well this is great and all but where should I go looking next.
My Favorite Place Find Your Mexican Ancestors Using Obituaries
Screenshot of Legacy.com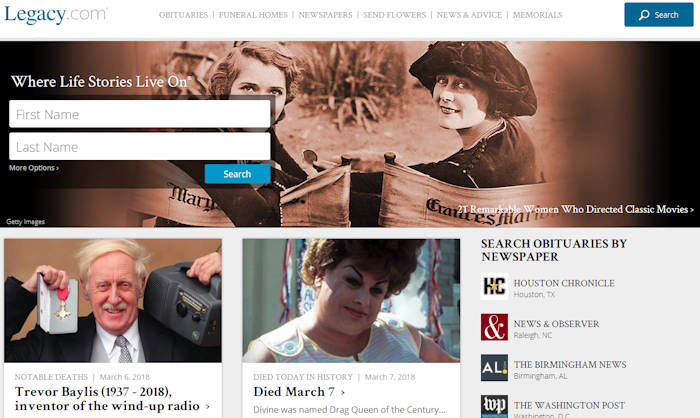 As you can see from the above image there is a search box where you enter your ancestor's name and last name or the information of whoever you are searching for. You can also enter a keyword, for example, the name of a town or other possible last name, perfect for searching for females. Make sure to play with the drop down menu if you leave it as it is you will only be searching for the past 3 days. I always like to use "All Records". Make sure and play with it and try as many different combinations as you can. Try searching for a town using keywords only to see all deaths for that particular town.
Get Alerts In Your Inbox
Legacy also lets you create obituary alerts. Use their "ObitMessenger" and signup. It is a free service and the way that I use it is to monitor certain towns from Mexico. I entered the towns as keywords so whenever that town is mentioned in an obituary I get an alert to my email and I can visit it. I have found many distant cousins of my father and grandfather that have died in the U.S. You can even enter names or last names as keywords.
Keep in mind that Legacy.com is for more recent obituaries and you can find some as old as 1939.
Other places to find Obituaries
As you can see finding an obituary can help you bring down some of your brick-walls in your Mexico Genealogy research. After reading this article you now have a basic foundation where to start searching for obituaries, where to sign up for alerts, and three other resources that may help you locate obituaries.
Resources to Help You Find Places In Mexico
Once you find your Mexican ancestors using obituaries and the palce they were from you can use these two resources to help you find the place in Mexico or learn more about a specific place.
On a final note don't limit yourself to the resources that I mention in here. They are a great place to start but if you have no luck try searching for other newspaper or obituary archives since I know that there are many other ones out there. Try searching for your ancestor on Google and type the word "obituary" next to it. I have been able to find some this way.