A great book where you can find resources as to where to search for your ancestors is the Hispanic American Genealogical Sourcebook. It was one of several books that I bought for the Las Villas del Norte book collection.
Even though it was written back in 1994 it is still very relevant and useful. Half of the book contains essays by Lyman D. Platt.
Part one of the book is focused on helping you learn how to conduct genealogical research.
The author starts by giving you information on background material and things you need to know before you begin. He then goes on to show you the basic genealogical research methods and their application to Hispanic America. Finally, he talks about records specific to Hispanic Americans.
As we know Mexico is considered a Hispanic country and thus this excellent book covers Mexico too.
What is awesome and that I love about the book is that Part two is a Directory of Genealogical Information.
Basically, it contains four lists divided by states and in alphabetical order of Libraries and archives, Public and Private Organizations, Print Resources, and other media. A description of each is provided along with the focus of each. This part in itself is well worth the price of this collection since it helps you locate genealogical resource s in the United States that may be very useful with your Mexican Genealogical research.
This book is excellent for anyone that is a serious researcher or genealogist, and it is a must-have in any genealogy societies library.
FYI: Many of the resources mentioned in this book are now online so this is a great guide to find out what to google and see what you can find.
Cover of Book: Hispanic American Genealogical Sourcebook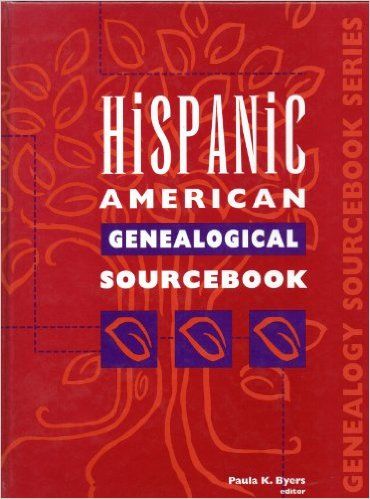 Description of the book Hispanic American Genealogical Sourcebook by the editor:
Hispanic American Genealogical Sourcebook is a convenient guide which includes all the information required to begin genealogical research. Part I consists of informative essays prepared by Lyman D. Platt, an expert in the field of Hispanic-American genealogy. Combining historical data and practical genealogical advice, the essays reveal the steps that must be taken to ensure a successful search for information.
The Authors and Editor
Rudecinda Ann Lo Buglio, F. A. S. Los Californianos, Publications Chairman,
Evelyn Romero Martinez Author; President of Los Fundadores (Founders and Friends of Santa Clara County), and
Lyman D. Platt Author, Genealogical Publications President, Institute of Genealogy and History of Latin America
Paula K. Byers editor.
Get Your Copy of This Book:
At the moment of writing this the only place that I could find it was at Amazon.com and was selling starting at $41.05, the price may be different for you depending on its availability. If you are interested in buying this book click here BUY NOW to buy from Amazon.
Find in a Library Near You
Use WorldCat.org to Find
I hope that you find this book useful and informative as I have. Please let me know in the comment area of what you thought about this book.
Other Related Books That May be of Interest to You
100 Resources and Tools to Help You Find Your Mexican Roots
50 Websites for South Texas and Northeastern Mexico Genealogy