In this post, you will find two great books in regards to the descendants of conquistadors and first Spanish settlers of New Spain (La Nueva España, nowadays Mexico).
For the longest time, I have been searching for books that contain the descendants of the first settlers or conquistadors of Mexico but have not found any. If you have come across one, please let me know. I am looking for family trees of anyone that arrived in Mexico prior to the 1550's. Or of any Native Americans that adopted the Spanish crown and thus there is a paper trail of them and their descendants.
The reason for this is that many of us have reached the early 1600's and middle 1500's but are missing a link between the first settlers or conquistadors. I also think that such work will help us connect more easily.
Ok, I think that is a fair explanation of what I want. Now, let's get to those two books that I mentioned.
The first book: Sumaria Relación de las Cosas de la Nueva España
Its subheading is; con noticia individual de los descendientes legítimos de los conquistadores y primeros pobladores españoles. In English, the title and subtitle translate to Summary of the affairs of New Spain with individual news of the legitimate descendants of the Spanish conquistadors and first settlers.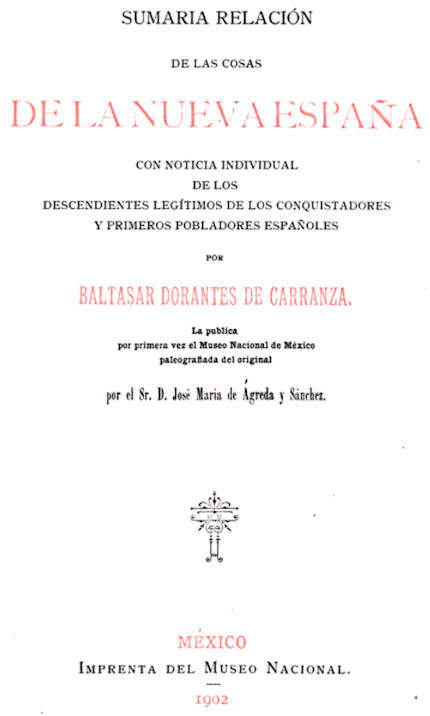 Within the pages of this book, I found information on my Tapia and Ayala ancestors. This is at the first glance, let me be honest here, I have yet to read the book in its entirety.
The only thing is that the information seems cryptic at some points since it is not formatted on the usual family tree formats that we are accustomed to. It seems as if the authors listed names based on how they found them on records.
What I mean is that if they found so and so is the grandson of so and so then that is how they would list them. With no other information connecting both individuals.
Here is an example for Andres de Tapia since I know that many of our readers are descendants of his.
Example From Book
1. Casa del Capitan Andres de Tapia, Conquistador, ve
cino de México, Maestre de Campo y Teniente General en al
gunas conquistas, y el primero y principal de los conjurados.

Son sus descendientes:

Tiene los indios.
Don Andres de Tapia Sosa… . . . . .. . . . . . . nieto.

Don Xpobal de Tapia… …. . . . . .. . . . . … .nieto.

Tiene indios.
Don Andres Ferrer de Tapia, hijo del hijo segundo… nieto.

Ligítimos.

Iligítimo. Joan de Tapia. . . . . .. . . . . … … nieto.
Iligítimo. Pedro de Arboleda… . . . . .. . . . … nieto.
As you can see the information is not much but it provides valuable clues. Mentions that one of the grandsons is the son of his second son. Also, it shows two illegitimate grandsons, thus proving that the children listed on his will are not the only children he had.
This book also provides a great deal of information on him. Now to our second book.
Second Book: Nobilario de Conquistadores de Indias
This book "Nobialio de Conquistadores de Indias" is very interesting. At a first glance, one would think that it is solely about the Spanish Conquistadors. But, after a close inspection, it contains many Native Americans that were given titles of Nobility for helping the Spanish conquer the New World.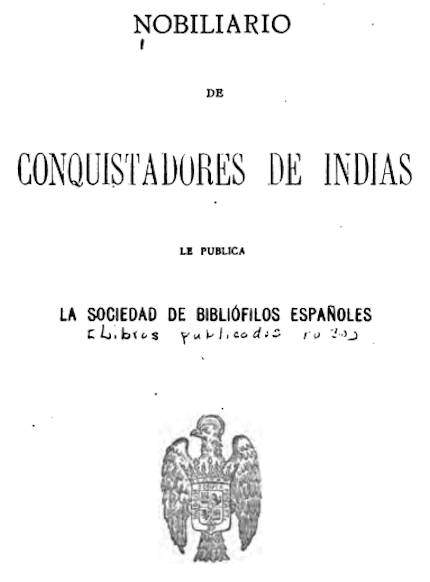 A full index of the conquistadors mentioned in this book can be found starting on page 317.
This book does not contain family trees but it does provide a short description of the merits why the conquistador is getting nobility title and also some clues are provided as to whom their parents are.
There you have it there are two great books that are free out there on the internet and that recommended that you download for your library.
Get Copies of Both Books for your Descendants of Conquistadors and First Spanish Settlers of New Spain Research
Sumaria Relación de las Cosas de la Nueva España – Download
Nobilario de Conquistadores de Indias – Download
Other Related Articles You Should Read
Well, that is it. I hope you like these two books and let me know if you have come across other great resources about the first conquistadors and their descendants.