In this post, I will show you how to easily find census records for Mexico by using an excellent resource that lets you find Census Records for Mexico.
It is the book by Lyman D. Platt titled "Census Records for Latin America and the Hispanic United States". Just by the name I would not have had paid attention to it.
Thankfully, Jaime Trejo made me aware of it and he even mentioned " It gave me the file numbers of where to look for the padrones of my father's hometown, Tarimoro, GTO. There are a lot of Padron files for Michoacan Archdioses, so it helped me target only the files I needed".
This recommendation came about lasts weeks post "Find Your Mexican Ancestors Using Church Padrones ".
I told him that I would put it on my wishlist of Books to Buy, but I could just not wait. I got my copy new for about $25.00.
I received the book a couple of days ago just in time for my short review for today's post. In short, I loved it. Let me just warn you it is a research tool and not an entertainment or reading book. It is a compilation of about 4000 listings of census records. What is best for us interested in Mexican Genealogy is that the bulk of this book is focused on Mexico and it's Spanish territory to include New Mexico and Texas.
How to Easily Find Census Records for Mexico
Each entry mentions the locality, Province, Country Year(s) and the reference. With this information, you will learn if there is a census for a particular town or city, the years it covers, and also the place where you can find that particular census.
Another thing that I liked many of the listed census records list film numbers that FamilySearch has thus made it easier for us to get access to them.
Let me just warn you, even though this book took over 25 years to compile and has thousands of listings it does leave some Padrones and Censuses out. I checked for Tamaulipas and discovered that Guerrero/Revilla is not listed and I know first hand that they exist since I compiled a book on them. Also, one Padron for Cadereyta Nuevo Leon that I know exists is also not listed.
Don't get me wrong this is an excellent book and any serious Mexican Researcher should have a copy of it in his/her library. I just don't want you to think that because it is not listed in this book, that a Padron or census record for your locality does not exist. One has to remember this list is a list of Censuses that the Author found during his 25 years of research. It is a titanic work and always keep in mind that new records keep resurfacing as years go by.
Cover of Book: Census Records for Latin America and the Hispanic United States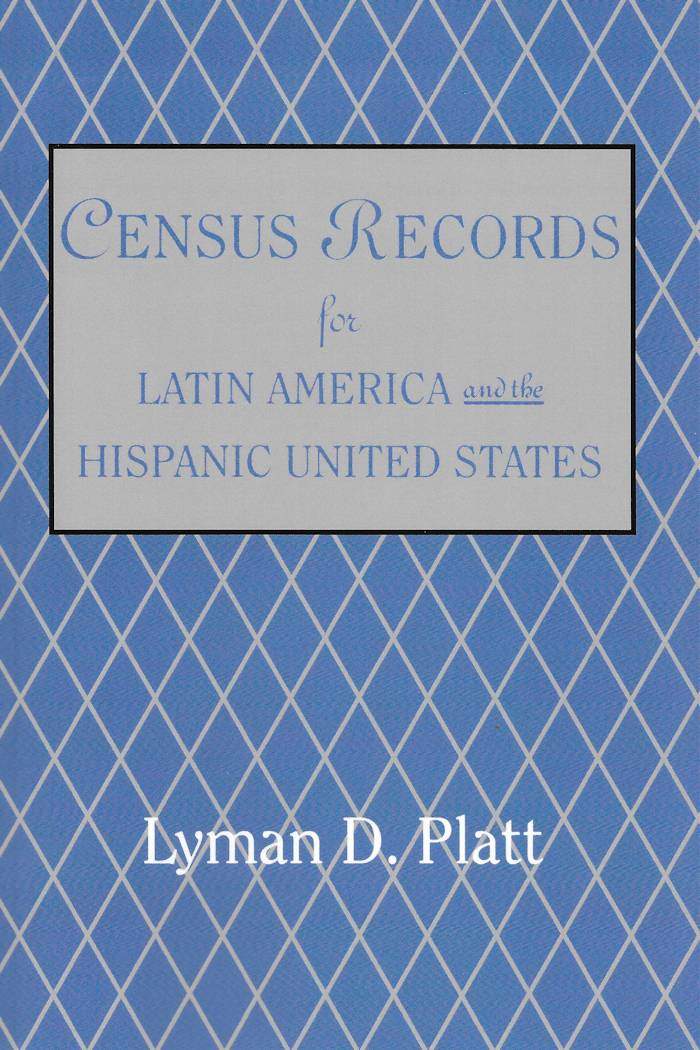 Click here or on the above image to view on Amazon.com
$19.99 Used and $24.95 New Buy Now
Description of book by Amazon:
"This is the largest and most complete survey of census records available for Latin America and the Hispanic United States. The result of exhaustive research in Hispanic archives, it contains a listing of approximately 4,000 separate censuses, each listed by country and thereunder alphabetically by locality, province, year, and reference locator. The enormous number of census records identified by Dr. Platt in the course of his twenty-five-year investigation will surprise and delight the serious researcher, and none more so than the family historian researching his Hispanic roots. In every colony of the Spanish Empire, at least one major census was taken during the colonial period (1492-1825), although not all of these documents have been preserved. However, the stream of colonial reports on local population submitted to Spain for administrative, fiscal, military, and religious purposes swelled to a flood as the Spanish colonial administrative apparatus was reformed and expanded during the Intendency Period (1763-1825). The amount of material available to genealogists and family historians during this period of time is the largest accumulation of demographic information available for any major region of the world. Beginning in the late 1700s the Council of Indies, the administrative arm of the Crown in Spain, initiated an Empire-wide project of population management through systematic and regular census reports. All persons in a given area, together with information about their age, sex, residence, and marital status, were to be listed, by name, usually within the family grouping, showing an implied or written relationship to the head of the household. The women were almost always recorded in these listings with their maiden names, as is common in all Latin American records. The first series of censuses beginning in 1776 resulted from orders issued to both civil and ecclesiastical officials that each takes separate counts. The results were sporadic, but they were fairly extensive, and a large number of them have survived in one archive or another in Latin America or Spain. Many have been microfilmed by the Family History Library of the LDS Church in Salt Lake City, and they are identified here by film number. The largest number of censuses identified in this study, however, are those of the 1790 time period. While the majority of census listings are for Mexico, all countries of Spanish North America, Central America, and South America are covered. The modern states of California, Arizona, New Mexico, and Texas are found here in Mexico because they belonged to Mexico during the period in which most of the censuses were taken. Florida and Louisiana, on the other hand, are separate because of their loose ties to Mexico. Notwithstanding the Mexican emphasis, anyone even slightly interested in identifying the early inhabitants of Latin America and the Hispanic United States will find this book absolutely indispensable." – Amazon.com
Table of Contents:
Here is the table of contents of this book so that you may know exactly what it contains.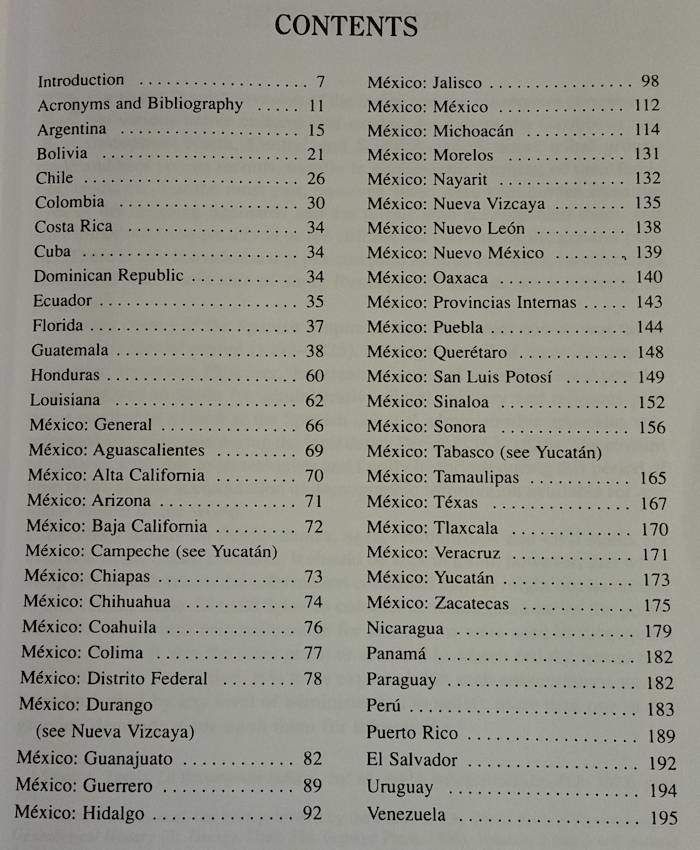 Get Your Copy of This Book:
At the moment of writing this the only place that I could find it was at Amazon.com and was selling starting at $19.99 used and $24.96 new. If you are interested in buying this book click here BUY NOW to buy from Amazon.
I hope now you know how to easily find census records for Mexico. Please let me know in the comment area of what you thought about this book.