In this post, you will learn how to find your ancestors using genealogy indexes. Indexes are vital to every family historian and genealogist alike.
What is a Genealogy Index
A genealogical index is basically a listing by alphabetical order or yearly order of a record set or collection for a given location. For example, a book that contains the extracted genealogical information for marriages in a certain location covering a time period.
Indexes make it easier for us since we do not have to browse page by page in order to find our ancestors in a given record set. We can use them as a tool to get the information we need to get or view a copy of the original document.
Find Your Ancestors Using Genealogy Indexes on The Internet
The two most famous index websites are FamilySearch and Ancestry, of course, both are more than just index websites. They are also digital repositories of record collections from around the world. For this post, I will talk about Civil Registration Records and also Church Records.
Indexes at Ancestry
When it comes to Mexican Genealogy, Ancestry is a great resource since they have indexed the Civil Registration Records for almost all of Mexico. What they indexed was the death, birth, and marriage records covering 1860-1930, in some locations even up to the 1950's.
To test it out, I searched for my grandparent's marriage record.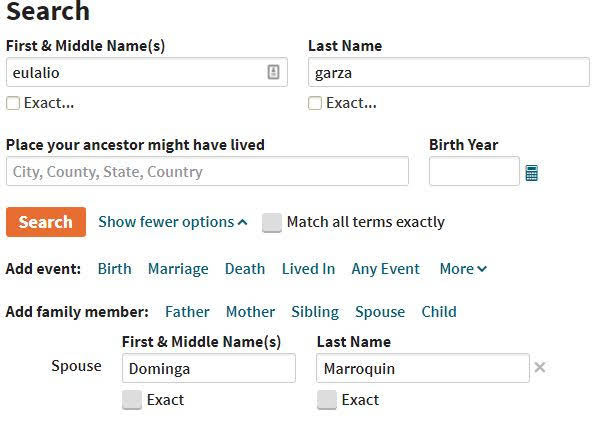 Then I pressed "Search" and got the following.

I was lucky that they came up at the very top. Keep in mind that this may not be the case for you since some ancestors are more elusive than others.
I then clicked on the record and got the following.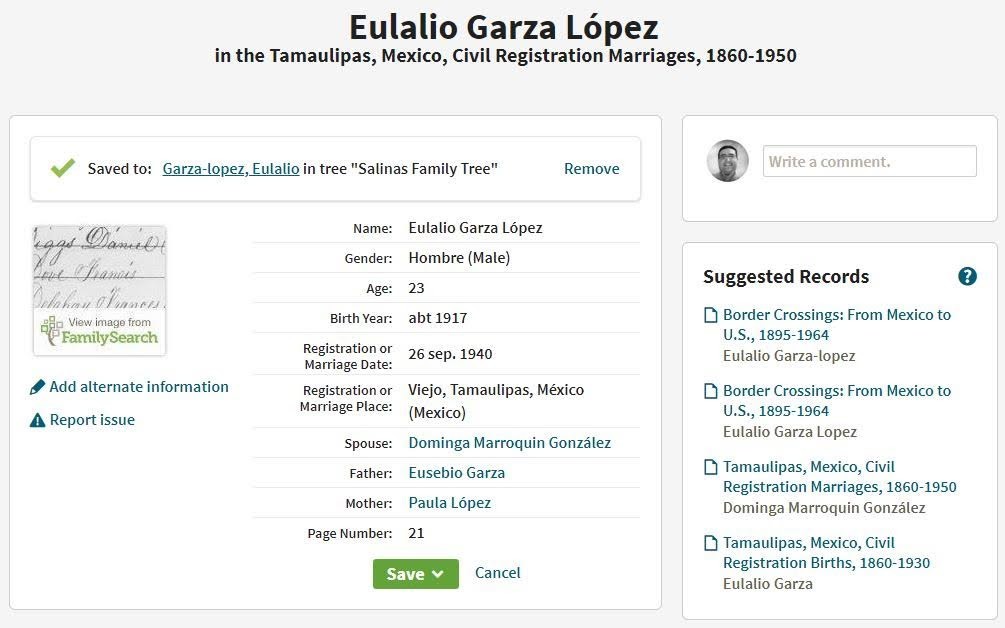 As you can see the names of the parents are provided. If I were to click on Dominga then I would get the names of her parents. A word of caution: names are many times misspelled.
Even though you get the names of the parents, make it a good practice of getting the copy of the original record, read it, and if you can transcribe it. Believe me, it is time well worth spending since you will find extra things that can help you further your research.
The great thing about Ancestry is that the index has a link to the images. on the above image if you click on the square to your left that says "View Image from FamilySearch" you will be taken to the record that this index entry was taken from.
Here it is.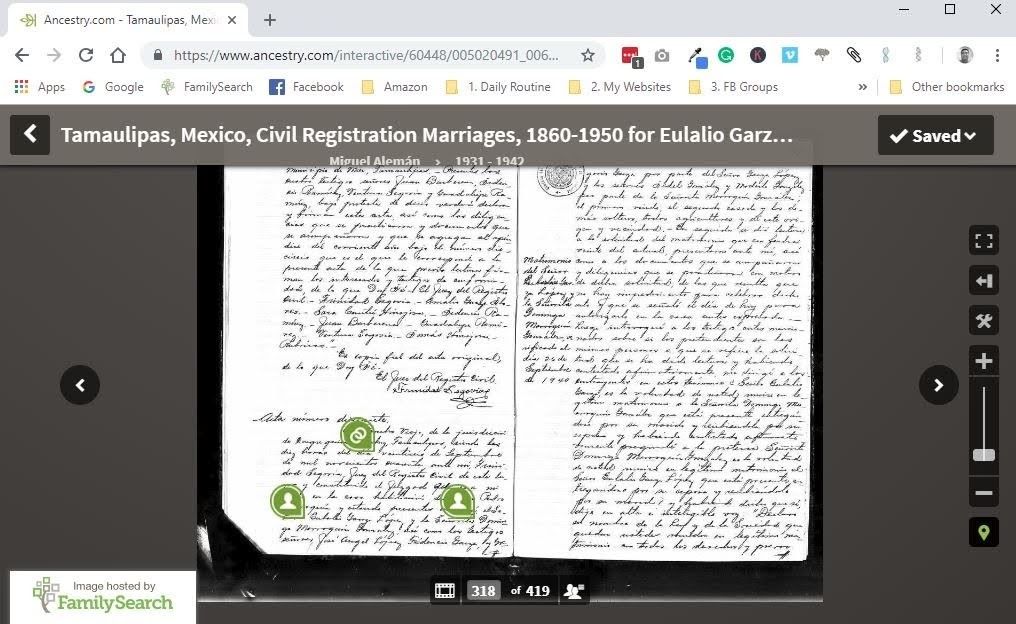 They do have some church indexes covering some parts of Mexico but they are the same as the ones from FamilySearch.

To show an example I searched for my second great grandparents Martin Garza and Ruperta Lopez. I found them on the second page of the results.
I clicked on the record and got the following.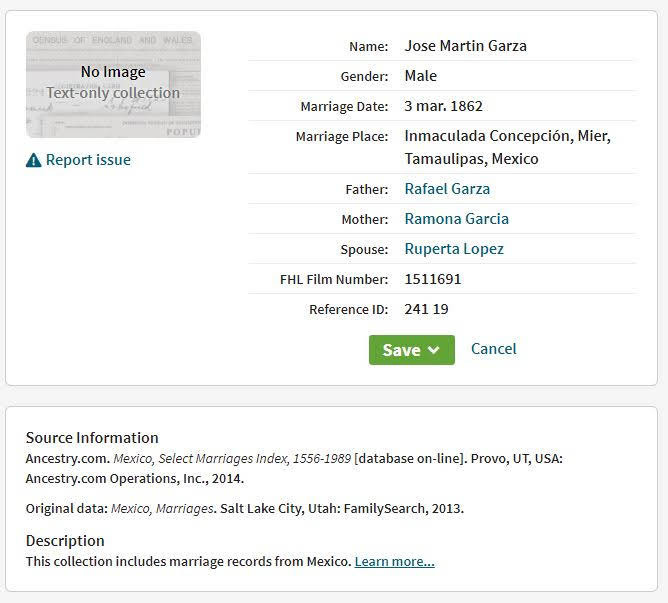 I am provided with the names of the parents and if I click on Ruperta I will be provided with the names of her parents.
Unfortunately, the image is not linked to this index, but keep on reading to learn how to view a copy of the original.
Keep in mind that to use Ancestry and be able to search the Civil Registration Index or church indexes for Mexico you will need to subscribe to their World Explorer membership.
Indexes at FamilySearch
FamilySearch is a treasure to anyone searching for their ancestors, especially for us with Mexican roots they are vital.
When it comes to Civil Registration indexes they do have some for many states but they have more that have not been indexed yet. That is the case for the three states that I specialize in, Coahuila, Tamaulipas, and Nuevo Leon.
What is so great and important about them is that they do have the images for the death, marriage, and birth Civil Registration records. Their images are the ones used by Ancestry.
What FamilySearch is strong for, is their indexes of may Church records for all of Mexico. Older indexes do not have a link to the image but newer ones do. The rule to keep in mind is that if you find an ancestor on a church index of theirs then FamilySearch also has an image of the record that the index was extracted from.
These church records go back all the way to the early 1500's for what is now Mexico.

To test out the church index I searched for my second great grandparents Martin and Ruperta and this is how the result for them looked on FamilySearch.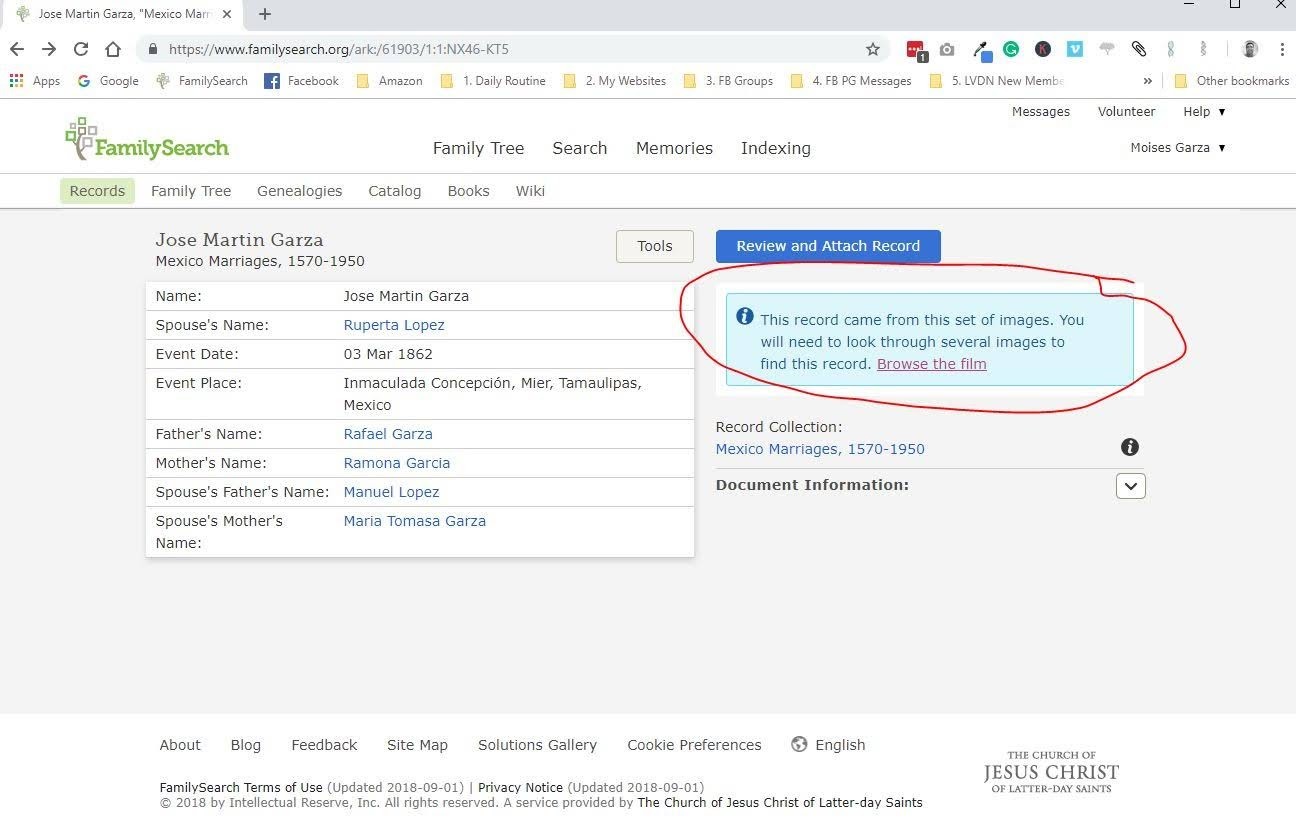 I clicked it and got the following.
As you can see, I was provided with the names of the parents for both of them. Also, take note of the blue box that I circled since this is a new feature that was recently added by FamilySearch. You click it and it will take you straight to the film that the information for this index came from and also where you can find the image to your ancestor's record. In this case the marriage record for my second great-grandparents.
The new feature is great and a time saver but I am still going to show you the way of how to browse for images since you will need it for the Civil Registration records and or other indexed collections that may not point you to the microfilm.
How to Browse Images on FamilySearch
To browse for both Church and Civil Registration images just go to their home page and log in. If you don't have an account go ahead and create one. It is free to do so.
After you log in click on the "Search" tab located towards the top center of the homepage. You will then get the following screen.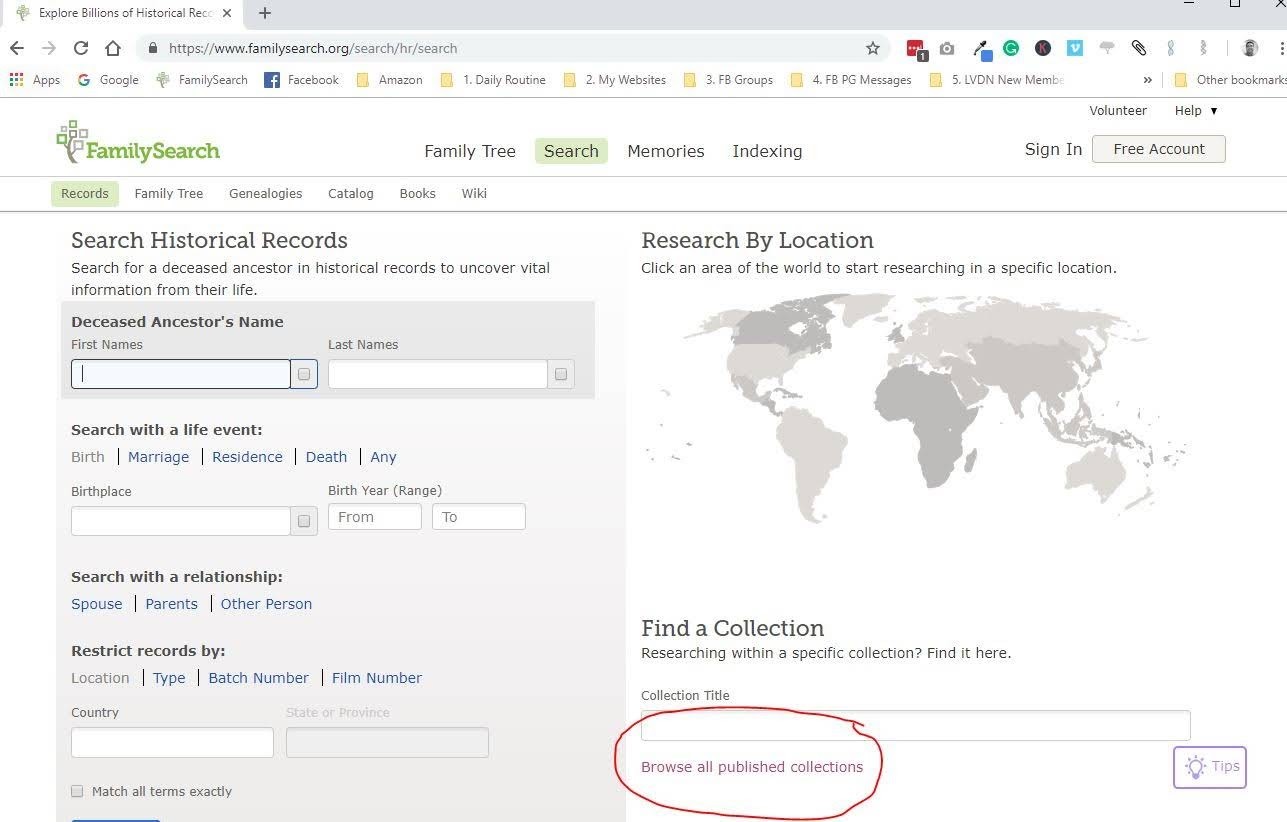 Then click on "Browse all published collections" as I circled on the top image. You will then be taken to the following page.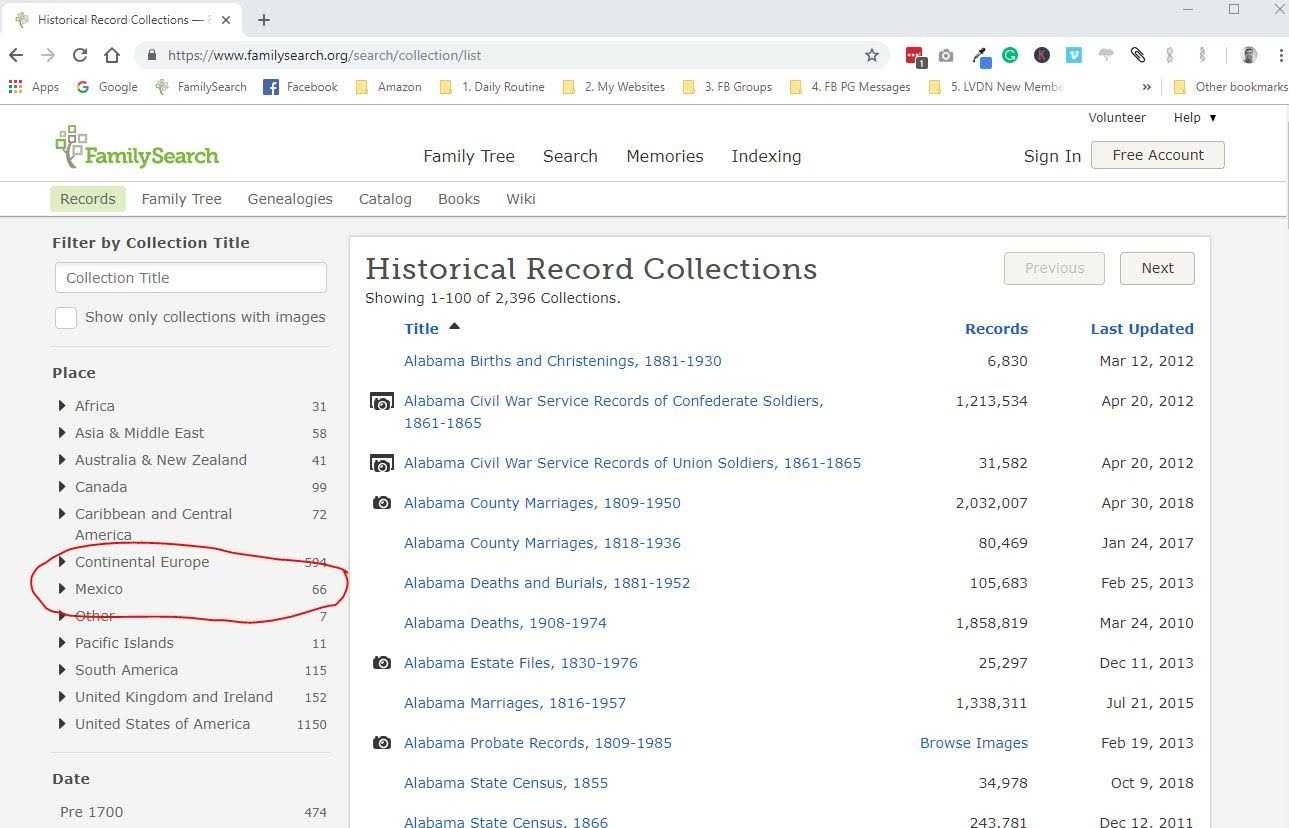 When there, click "Mexico" on the left column as I circled on the above image. When you do it will expand and all you have to do is choose the state that you are looking for. I clicked on Tamaulipas and got the following two record collections.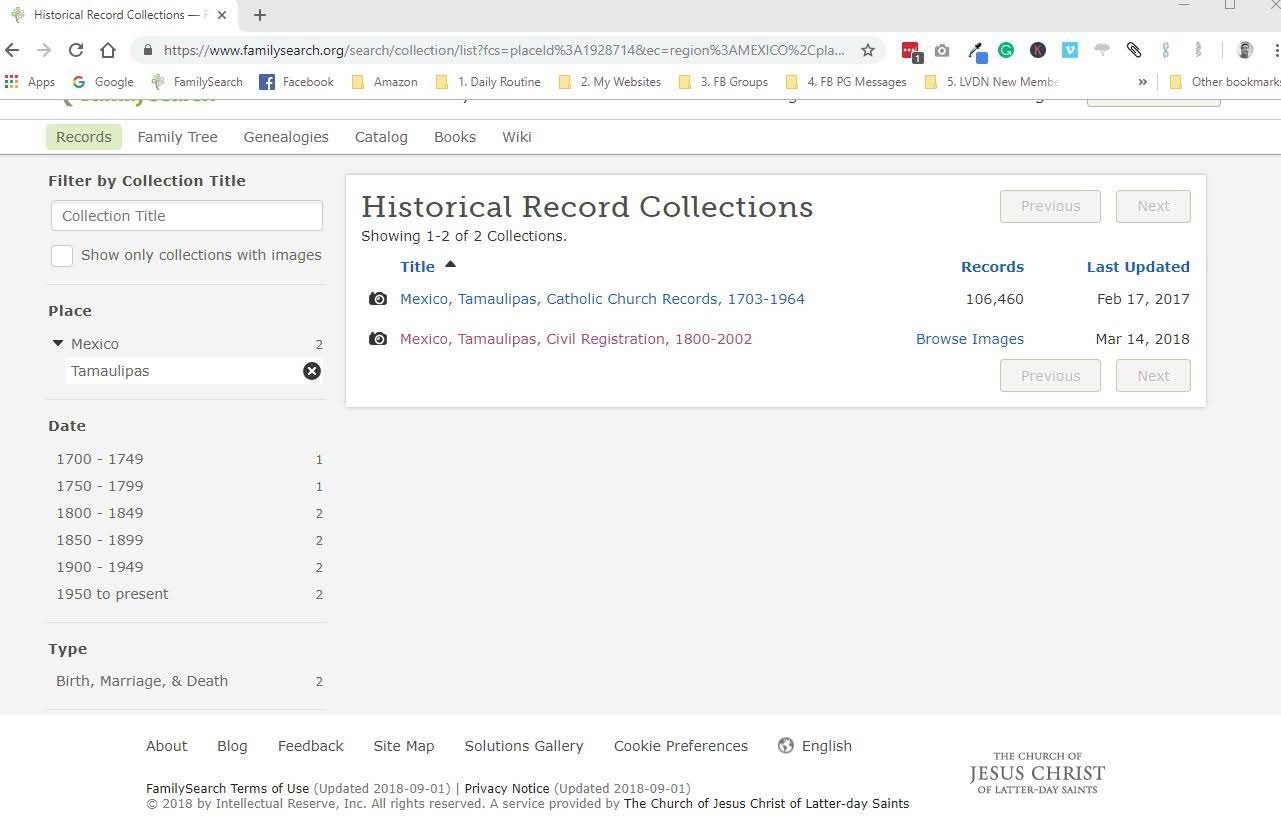 Now just click on what you are looking for and on the following page click the link "Browse through # Images".
For Church records, they are sorted by City and then by Church. Then they are broken down by Birth, Marriage, or Death then by years.
For Civil Registration they are broken down by Municipality and then by Birth, Marriage, or Death, and then by years.
Let's take the example of my second great-grandparents. To find their church marriage record I would click on the Catholic Church Records. On the following screen click "Browse through # images" I have circled on the image below.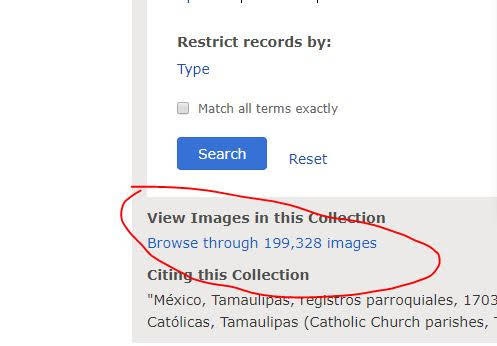 Then, we now form the index that they got married in Mier, Tamaulipas so on the following screen select Mier.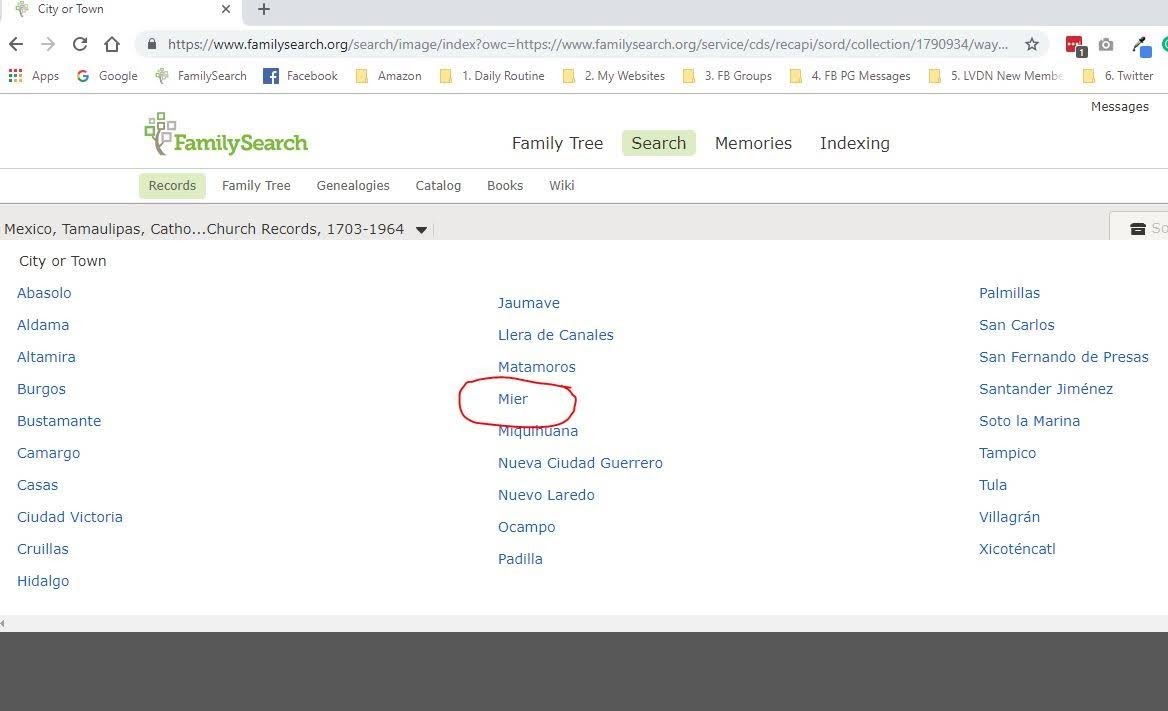 Then on the following screen select "Inmaculada Concepcion" and you will see the following.

After you click it you will be provided with the images.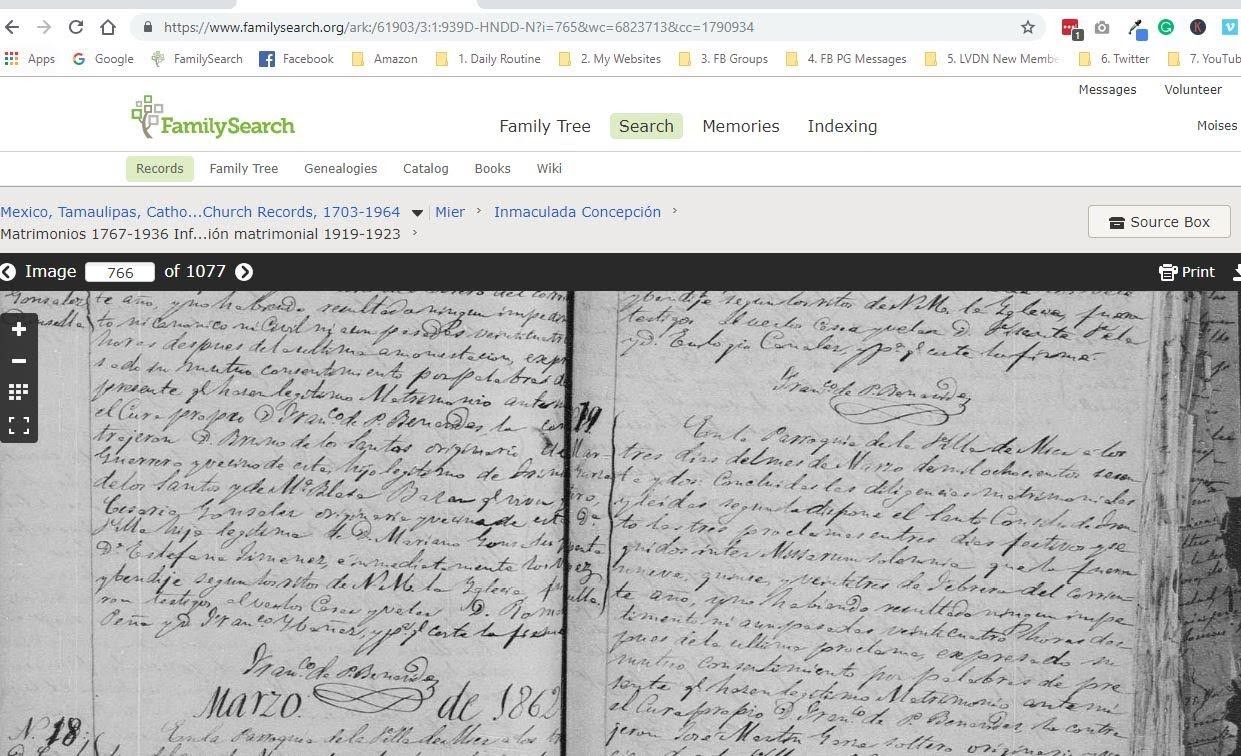 I found their marriage record on image 766. Tip: Jump around by 100 pages and when you get near the year of marriage jump by ten pages. This will help you find images faster.
Word of Caution: if you don't find your ancestors on Ancestry and FamilySearch it just means that they have not indexed the record collections of where your ancestors come out.
Find Your Ancestors Using Genealogy Indexes in Books
We are getting used to doing research online but let me just tell you. Not everything is online!
I love both Ancestry and FamilySearch but sometimes you need to browse some Index books in order to find your ancestors.
I searched for my 4th great-grandparents Rafael Garza and Tomasa Sanchez for years and could never find anything on them. I would keep searching Mier and in hopes of finding their marriage record. As I learned more I realized that the surrounding towns of Camargo, Revilla, and Cerralvo had not been indexed by FamilySearch.
I searched for books about these towns and came across the Index Books by the Spanish American Genealogical Society (SAGA) out of Corpus Cristy, Texas. They had indexed the death, marriage, and baptism records for many towns of Nuevo Leon and Tamaulipas.
And guess what, I found my 4th great-grandparents in their book titled Cerralvo Church Marriage Records 1761 – 1880 Book I Grooms, Pg. 33.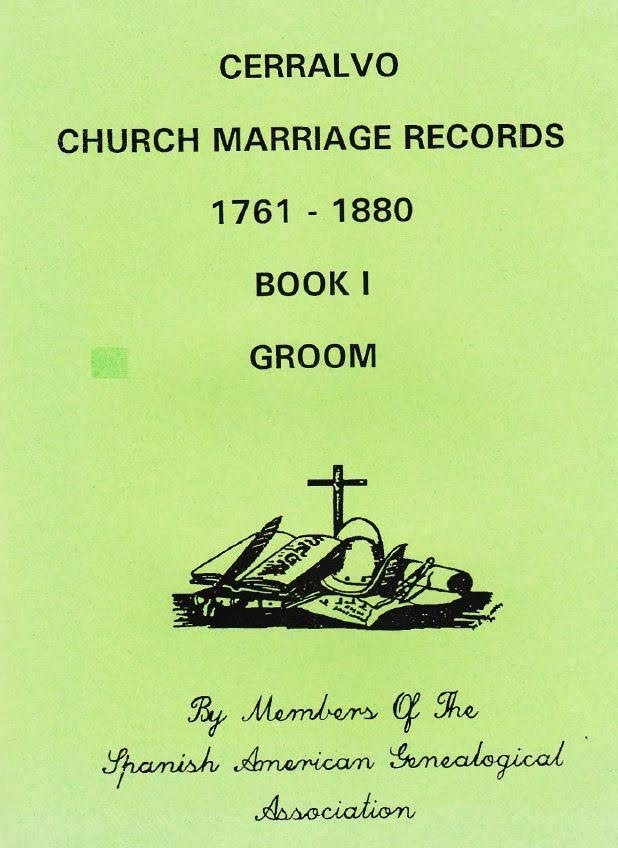 With the information found in the index book, I was able to use the above method of finding images on FamilySearch and was able to find their marriage record. Their record and the names of their parents.
Turns out that Tomasa was from the Lajilla, Nuevo Leon and was under the church jurisdiction of Cerralvo and that is why they got married in Cerralvo. They settled in El Arcabuz, and that is why their son was baptized in Mier, Tamaulipas.
There you have it, think outside the box and apply my own methods to any area of research that your ancestors may have come from in Mexico.
Related Articles that May Interest You
Find Records Researching Government and Church Political Jurisdictions
How to Find Your Ancestors Using Mexico's Civil Registration Records