The Sagrada Mitra de Valladolid, Antiguo Obispado de Michoacan used to cover Guanajuato, San Luis Potosi, Michoacan, Colima, and some towns in the border of Jalisco and other states.
If you have ancestors from this area then the marriage Dispensation records of this dioceses are worth checking out. It was started on August 11, 1836 and these marriage dispensation records may be the key to finding more about your ancestors.
The reason that I want to make you aware of this diocese is that as I write this the microfilms for this diocese that are on FamilySearch are being indexed and published online for anyone to browse.
Before I tell you of the website where you can find them I will provide you with a photo of a 1768 map so you can get an idea of the area it used to cover.
1768 Map of Sagrada Mitra de Valladolid, Antiguo Obispado de Michoacan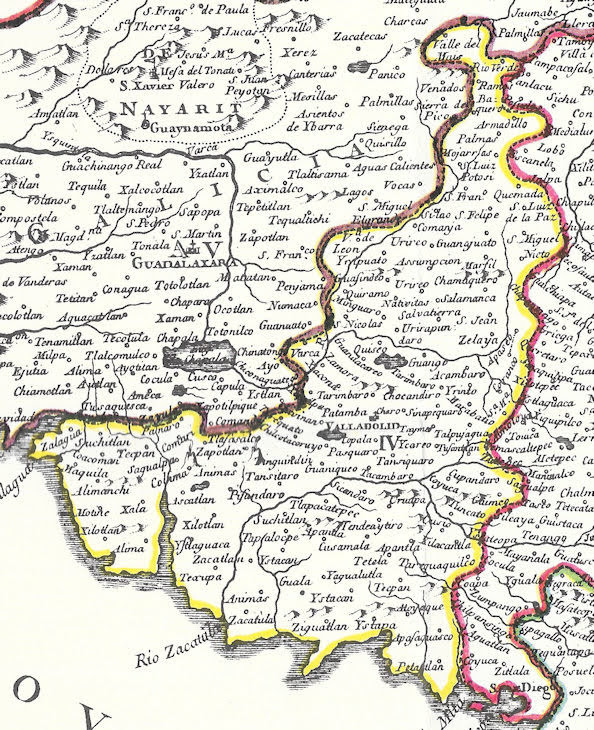 As you can see, the Sagrada Mitra de Valladolid, Antiguo Obispado de Michoacan covered a great expanse of area.
If you had ancestors that lived here there is no harm in checking out to see if you can find any marriage dispensations for them.
Valladolid Dispensas
Valladolid Dispensas is a blog that provides a listing of names extracted from the matrimonial dispensations in the Catholic Diocese archives of Valladolid (now Morelia, Michoacan, Mexico).
Visit Website: https://www.valladoliddispensas.com
How to use Valladolid Dispensas
There are two ways to use the website.
Method one:
Go to Website
enter your ancestor's name on the search box
after you get search results press Ctrl + F
enter your ancestor's name to find in the results
Make note of film # and page Image number
Method two:
Go to Website
click on desire Indexes by Year on left top corner
click on the desired film
press Ctrl + F to search
repeat for each film
Once you find your ancestors make a note of film # and Image Number
If you found your ancestors congratulations! If not keep on checking back as new indexes are being added on a weekly basis.
Find the Film and Image on FamilySearch
If you did find them and you already have a film number and image number follow the instructions below to find the record at FamilySearch.
Go to familysearch.org
Place your cursor on top of "Search" and choose "Catalog"
Then click on the link "Film/Fiche Number"
Enter the film number and press "Search"
Then click on the collection that you are presented with
Once there click Ctrl + F and enter the film number then press enter on your keyboard
The film number will be selected now just click on it little camera icon that is to it's right-hand side.
Once it opens up to enter the image number and press enter to go to the image.
That's it, now you know that the Sagrada Mitra de Valladolid, Antiguo Obispado de Michoacan are being indexed. You also learned how to search for your ancestors and finally how to locate the record at FamilySearch utilizing the index information available at Valladolid Dispensas.
Other Related Article that May Interest You
How To Locate Your Mexican Ancestor's Marriage Dispensation
Sagrada Mitra de Guadalajara Antiguo Obispado de la Nueva Galicia
Guadalajara Dispensas And Their Work On Mexican Church Records