A few weeks ago I came across an excellent resource titled, Major Genealogical Record Sources In Mexico, to help you in your Mexican Genealogy Research. It is a small 22 page eBook available at FamilySearch.
This book was written by the Church of Jesus Christ of Latter-day Saints Genealogical Department back in 1970 but the material covered is as relevant today as it was back then.
The four major goals of this book are to:
Identify types of records that exist that will aid in the identification of ancestors.
Identify periods of time that the existing records cover.
Identify what genealogical information appears in the existing records.
Identify the availability of existing records for searching.
Cover of Book "Major Genealogical Record Sources In Mexico"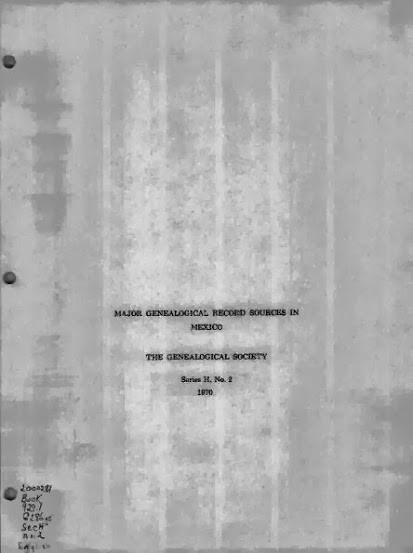 This book has already helped me to identify several books were possible ancestors may be listed.
I know that it will also help you out. Even if you do not have the time to check it out today or read it I recommend that you download it.
Download Major Genealogical Record Sources In Mexico ebook here:
https://dcms.lds.org/delivery/DeliveryManagerServlet?dps_pid=IE1169851&
Here are Tow Other Great Resources to Find Records in Mexico
How to Easily Find Census Records for Mexico