The Digital Library of The Archives of Sinaloa has made some of the books that are in their archives available for everyone to read and enjoy. They have done this on books that are no longer available for purchase and they are utilizing Scribd.com to share them with the general public.
They currently have more than 200 items for viewing and reading online. All of their items can be downloaded but you will either need to subscribe for $8.99 per month or just get a free subscription for 30 days and download what you want. I did the latter.
You can read the titles of all their online books on their official website.
You can expect to find the following:
Encuentros con la Historia (19 eBooks)
Ensayo (Historia, Economía, Social, etc.) (77 eBooks)
Instrumentos de Investigación (18 eBooks)
Screenshot of their Archives Digital Library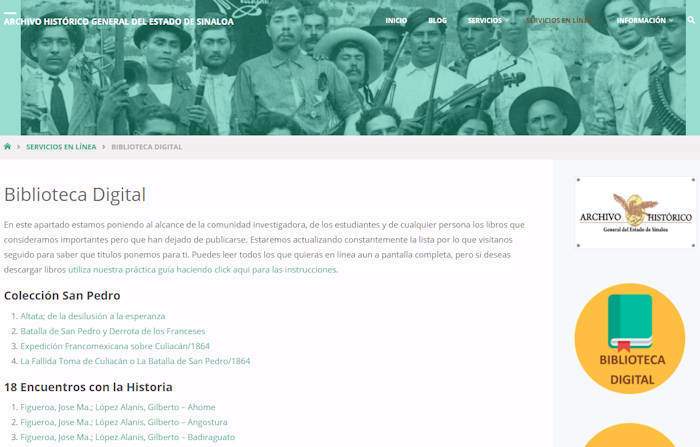 Link to visit The Digital Library of The Archives of Sinaloa
I believe that you can download only one book and then you will either have to pay Scribd's monthly subscription or upload a document in order for them to let you download additional eBooks. For now, I have a subscription with them.
If you do get a subscription with them or want to try Scribd out free for 30 days, You can use this link http://www.scribd.com/g/j7o3s

Other Related Posts About Books
Using and Finding Books to Find Your Mexican Ancestors and Expand your Family Tree